Writing Instagram Search Warrants
Instagram isn't just for selfies and food photos—it can be a goldmine of evidence in a criminal investigation. Actions such as posting a photo or reel, sending a DM, or liking a post are all logged and could be disclosed to Law Enforcement authorities pursuant to a search warrant. This post discusses key features or Instagram and tip for writing Instagram search warrants.
What is Instagram?
Instagram is a free platform for sharing photos and videos. Launched in 2010 and later acquired by Meta Platforms Inc. in 2012, Instagram offers users the capability to edit and publish visual content from their phone. It allows users to supplement their posts with captions, employ hashtags for discoverability, and interact with others through comments, likes, and tags. Instagram's core concept is to share a user's life visually, either publicly or with approved connections.
Users can enhance their photos with filters, tag your posts with relevant keywords and locations, and follow others to view their posts in their feed. All posts are displayed in a grid format on a user's profile page.
While Instagram is typically used via its mobile app, compatible with iOS and Android, it is also accessible through a web browser on a computer, although with a reduced set of features. To get started, users install the app, create an account using an email or phone number, establish a profile with a chosen username, and then begin following, posting, and interacting with other users.
Key Feature: Stories
Stories are a feature that lets users post photos and videos that vanish after 24 hours. This feature is a direct competitor to Snapchat's stories and offers a variety of interactive elements such as polls, questions, and stickers, which make it a popular choice for personal and business usage alike.
Key Feature: Reels
Reels is Instagram's newest feature and its response to the growing popularity of short-video platform TikTok. Reels allow users to create and share 15-second video clips set to music from Instagram's library or their own original audio.
Key Feature: Messaging
Instagram Direct is the app's messaging feature, which allows for private messaging between users, commonly called a "DM". This can be one-on-one or within a group. Messages can include text, photos, videos, and posts from Instagram itself.
Key Feature: Shopping
Instagram also has an integrated shopping feature that allows users to purchase products directly from posts and Stories. Brands can tag products in their posts, which users can click on to purchase directly within the app.
Multiple Instagram Accounts: The "Trap" Account
It's not uncommon for Instagram users to have more than one account logged into the app. This secondary account is often referred to as a "trap" account, "finsta" (fake Instagram), or "rinsta" (real Instagram).
A trap account is typically used for sharing content with a smaller, closer group of friends or followers. This could be content that is more personal, silly, or even controversial – posts that users might not feel comfortable sharing on their main account due to the larger audience.
These accounts are often set to private, and the content shared is less polished than on a main account. Having a trap account allows users to express different facets of their personality, interests, or moods without having to worry about the broader social implications that come with posting on their primary account. This can provide a sense of freedom and authenticity that can sometimes feel constrained on their main profile due to societal pressures or self-censorship.
Search Warrant Considerations
Crafting a search warrant for Instagram records isn't just about putting pen to paper; it's a meticulous process that requires you to:
Identify the need: The search warrant must establish the likelihood that the evidence you are asking to collect will be stored by Meta Platforms Inc.
Be specific: The warrant should clearly outline the types of records required – be it photos, comments, direct messages, or location tags. The more specific you are, the better.
Include user details: The warrant should include the Instagram username and any other identifying information that helps Instagram locate the correct account.
Understand the legalities: The warrant should comply with the Stored Communications Act and Instagram's guidelines.
WarrantBuilder.com can simplify this process, providing law enforcement with an automated system to create comprehensive, legally sound search warrants for Instagram and other platforms.
When writing Instagram search warrants, law enforcement should consider the online digital investigation techniques common to other online platforms. Meta Platforms Inc. maintains basic subscriber information for each user that includes the registered email address, registration date, the IP address used to register the account and the phone number provided. It is important to note that phone numbers collected by Instagram are "verified", meaning that a two-factor authentication code is sent to the user provided phone number; this is a valuable lead for investigators as you know the phone number was under the suspects control on the registration date.
Internet Protocol (IP) address are essentially the internet's equivalent of a phone number, allowing computers to send and receive information. Law enforcement can use IP addresses as an additional source of evidence in investigations that connect an online account to a physical residence or mobile phone. With the help of the American Registry for Internet Numbers (ARIN), investigators can find out which internet service provider (ISP) was assigned a particular IP address at a specific time. Once investigators know the ISP, a search warrant request will identify the person paying for the internet service and the location where service is provided.
Instagram Messages are a great evidentiary resource as they connect the suspect to coconspirators or victims and provide unique insight into the suspects activity, thoughts, and possibly planning of crimes. Because Meta Platforms Inc. does not have a way to ensure that an Instagram Profile actually belongs to a specific person, it is always recommended to collect messages.  Messages that are unrelated to the specific facts of the crime may help to prove the identity of the user, and ownership of the account.
California Law Enforcement
If you're part of California's law enforcement, it is important to remember that any search warrant for Instagram records must comply with CalECPA regulations. When specifying the account in question, always use the profile name or user ID, not the vanity name. We advise keeping the time frame for the records you're requesting as narrow as possible. If you think there's evidence beyond this initial scope, you can always issue a new warrant to cover more ground.
Serving your search warrant to Instagram
Meta Platforms Inc. requires law enforcement to register for an account with their Law Enforcement Online Request system. Register using your official agency email at www.facebook.com/records/ for an account. If nobody from your Agency has registered for an account, the process may take a day to complete, so it's smart to request access early.
Once logged in, the portal asks several case related questions such as case number, date the warrant was signed, when requires are required by, and questions about a non-disclosure order. It will also require you to provide the profile name or user id as well as the date that you last saw the profile.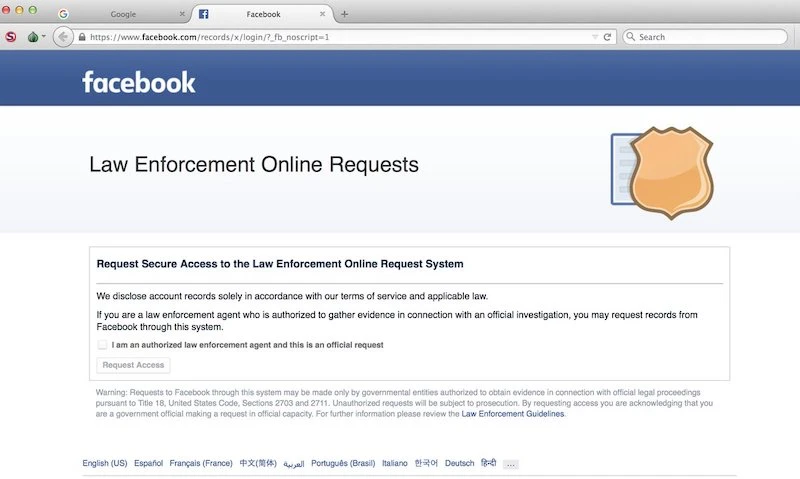 ---
Did you know that you can write a Instagram Search Warrant with WarrantBuilder.com? Get started writing by signing up for a free trial.
---