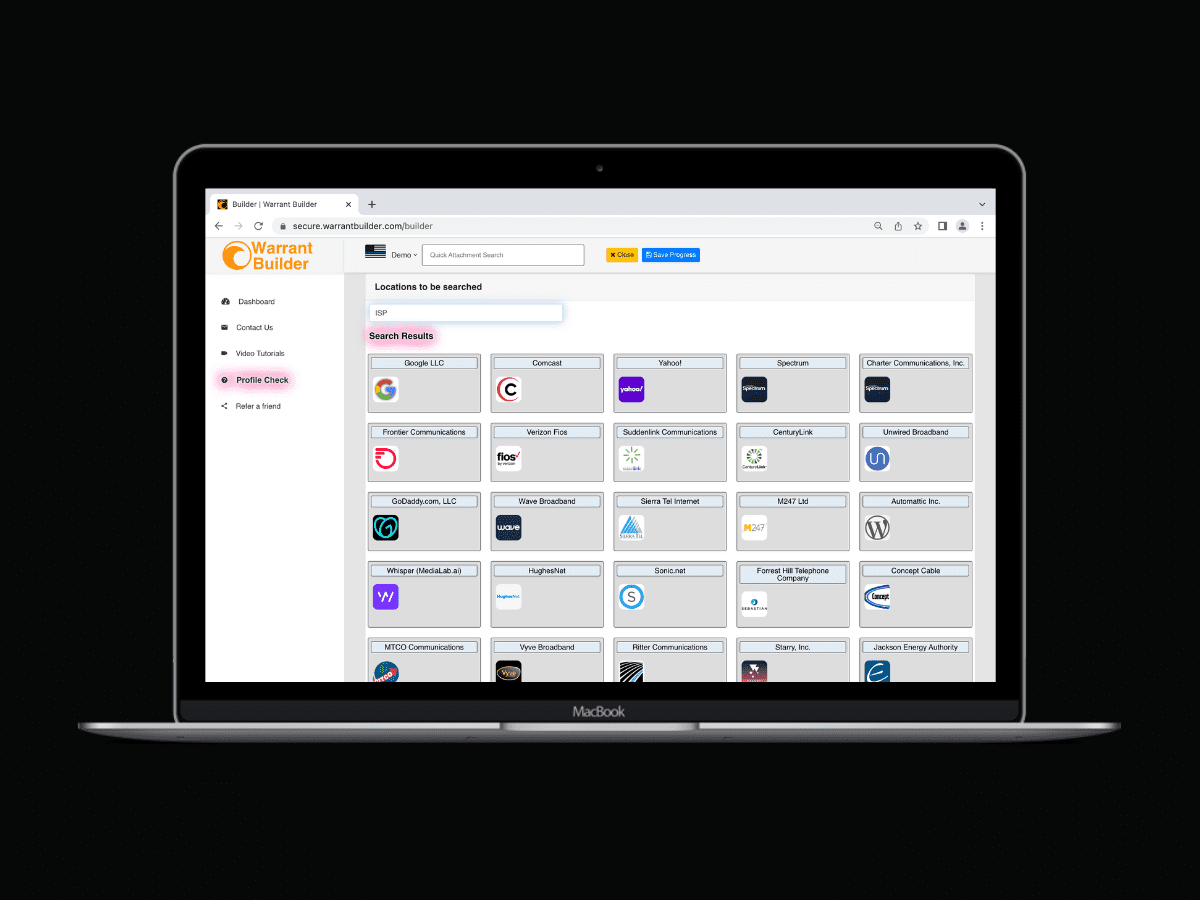 The Warrant Builder search warrant writing system
Warrant Builder is the premier tool for crafting the search warrant you need to collect critical evidence in your case.
Warrant Builder takes you beyond the template and crafts unique and custom search warrants for hundreds of companies, services and situations. Our one-of-a-kind system intelligently builds your warrant, with the evidence and court orders you need, even when you don't know you need them.
Use the current warrant format accepted by your court; hard copy, e-file, or both! We convert your forms to work with Warrant Builder. Increase your efficiency, strengthen your cases, and even reduce your overtime and callout costs with WarrantBuilder.com.
Warrant Builder Current User map
Warrant Builder currently supports Law Enforcement Officers in 40 states across the US. Adding your court jurisdiction and setting up your warrant formats can usually can be done in 7 days and is free for paid users.
One of the biggest warrant writing challenges is knowing what evidence you can collect. The Warrant Builder team researches the hundreds of companies and services we support to determine what evidence is possible to collect. We stay up to date on new features and changes that can effect your investigation.
Do you know where where and how to serve your warrant?
We do! Warrant Builder maintains current service information and always includes preferred service methods.
Crime isn't solved in the office...
Warrant Builder goes wherever your investigation takes you. Accessible from your desktop, laptop or mobile phone; Warrant Builder is always available. Warrant Builder uses your established submission method. If your Court allows eWarrants, you can write the warrant you need from the field.


---
Search Warrants don't have to be intimidating.
EFFICIENT
Spend less time writing and more time investigating.
QUICK
Start to finish warrants average 10 minutes or less.
SIMPLE
You provide the Probable Cause and we handle the rest.
COMPLETE
Required Court Orders added automatically.
---